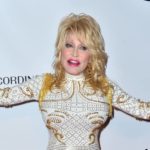 In an interview with The Tennessean, Dolly Parton revealed plans to open 'Dolly Center' in Downtown Nashville within the next few years.  Parton said her future plans in Music City will potentially include a Dolly Parton museum, restaurant/bar and grill, and more, but admits "right now though, I've got so many things going. I can do without that for the moment. But someday I will have a business here."
Parton already has the Chasing Rainbows Museum inside of her Dollywood theme park, but said that she wants to open another closer to home: "I'm going to have a museum here [in Nashville] pretty soon," she said, before sharing that she hopes to open the museum within the next couple of years. Parton added: "We have the museum at Dollywood, of course, but I would love to have something here since this is really my home." Parton said the museum might be part of a larger complex, "like a 'Dolly Center' or something that includes the museum." While it's unclear what would be on display at the museum, it's possible that it will highlight Parton's legendary career similar to her Chasing Rainbows Museum, which features some of Parton's unique memorabilia.
Parton will next appear in Dolly Parton's Mountain Magic Christmas, featuring appearances by Parton, Jimmy Fallon, Willie Nelson, Miley Cyrus, Billy Ray Cyrus, Jimmie Allen, Zach Williams and airing on Thursday, Dec. 1 at 8/7c on NBC.  In addition, Parton and her goddaughter Miley Cyrus are set to co-host the upcoming NBC New Year's Eve special dubbed Miley's New Year's Eve Party, airing live on NBC from Miami on Saturday, Dec. 31 from 10:30 p.m.-12:30 a.m. ET and also streaming live on Peacock.
Editorial credit: Featureflash Photo Agency/ Shutterstock.com