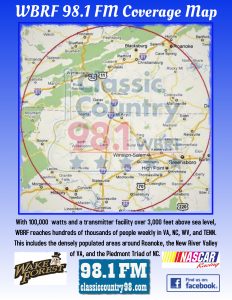 Welcome to the Classic Country difference! At 98.1 FM Classic Country, you won't hear the same songs automated to play over and over. That's because we have LIVE D.J.s who play over 10,000 selections spanning more than 50 years of the best in Country music.
Grab your coffee and start your morning off right with our Morning Drive Show hosted by Cousin Andy! .
At 5:00 PM tune in for the best in Outlaw Country with the Drive at Five, hosted by award winning D.J. Buford Kegley.
From 6:00 PM until 10:30 PM, you can enjoy Bluegrass and Old Time music on The Blue Ridge Backroads Show; broadcast LIVE every Friday. In addition, we are the flag-ship station for Wake Forest University, and a NASCAR racing affiliate.
Family owned and operated since 1985, we strive to promote family values and a love for God and Country. Our listeners are a top priority and we are one of the few 100,000 watt stations taking call-in requests. Tune in today and find out about the Classic Country difference!
With 100,000 watts and a transmitter facility over 3,000 feet above sea level, WBRF reaches hundreds of thousands of people weekly in Virginia, North Carolina, West Virginia, and Tennessee. This includes the densely populated areas around Roanoke, the New River Valley of Virginia, and the Piedmont Triad of North Carolina.
Contact us with the information below:
Classic Country 98.1 FM
P.O. Box 838
Galax, Virginia 24333
Phone General: 276-236-9273
Sales Department: 276-233-4981 or 276-591-2005
Request Line: 276-238-0981
Fax: 276-236-7198